John Williams Tops Poll of Best Film Composers
Lead in text:
The showbiz trade Variety recently polled 40 composers active in the movie industry, asking for their top three film scores of all time. John Williams came out on top with the most mentions, while Ennio Morricone's score for "The Mission" was ranked as Best Score overall. Read the entire article after the jump.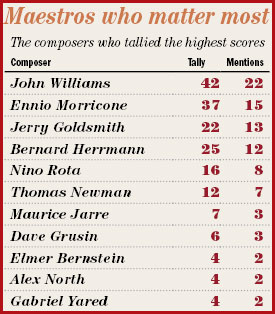 Ennio Morricone's original music for Roland Joffe's 1986 film "The Mission" landed on top of a Variety poll of 40 active composers who were asked to name their top three original movie scores of all time in order of preference.